100% Color Volume with Quantum Dot
A billion shades of color with Quantum Dot
Quantum Dot takes light and turns it into breathtaking color that stays true at any level of brightness to deliver our finest picture ever.

* 100% color volume measured to DCI-P3 standard, certified by VDE.
Quantum HDR
Wider range of contrast in cinematic scale
Fully enjoy every image with details that pop. Dynamic tone mapping of HDR10+ creates deeper blacks and vibrant imagery that always shines through.
* The range of Quantum HDR luminance is based on internal testing standards and subject to change according to viewing conditions or specifications.* Q60C 1m 08cm (43") : HDR
AirSlim Design
Sleek and slim, more than ever
The mind-blowing slim design of your TV blends seamlessly into the wall like you've never seen before.

Smart Hub
Discover your favorite content in one place
Optimize content curation and discovery, so you spend less time searching and more time streaming movies, games and shows you love.
* Agreement of the Smart Hub Terms and Conditions and Privacy Policy is required before use. * Some services are available to watch after registration and subscription.* UI is subject to change without prior notice.
Picture Quality
Quantum Processor Lite 4K
A smarter, faster 4K processor
Powerful processor that optimizes sound to viewing condition. 4K upscaling ensures you get up to 4K resolution for the content you love.
* Viewing experience may vary according to types of content and format. * Upscaling may not apply to PC connection and Game Mode.
Sound
OTS Lite
Virtual sound that tracks the action
A 3D surround sound with our virtual top channel audio will allow you to be fully immersed in the audio experience.
Design
SolarCell Remote
Easier control, greener future
Say goodbye to disposable batteries with the eco-friendly SolarCell Remote that's equipped with a solar panel on the back.
* To charge the remote with solar energy, set the TV remote down with the solar panel facing up. * Place it in your living room while your lights are turned on, or you can place it near a window where it will soak in natural sunlight.
Gaming Experience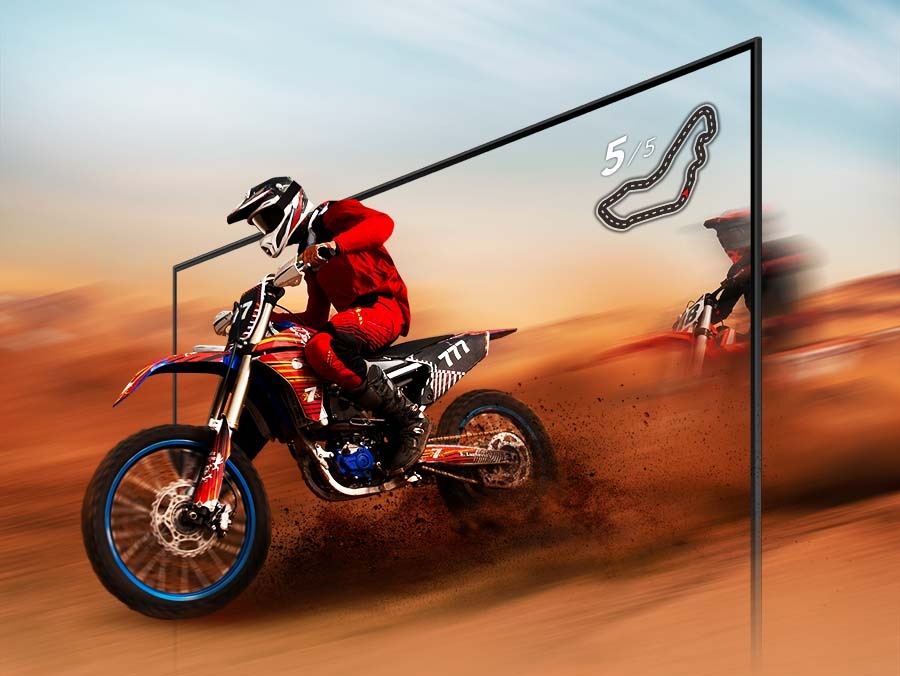 Motion Xcelerator
Smooth motion for a clear picture
Experience clear picture and performance with Motion Xcelerator that automatically estimates and compensates frames for the source of contents.
Smart Features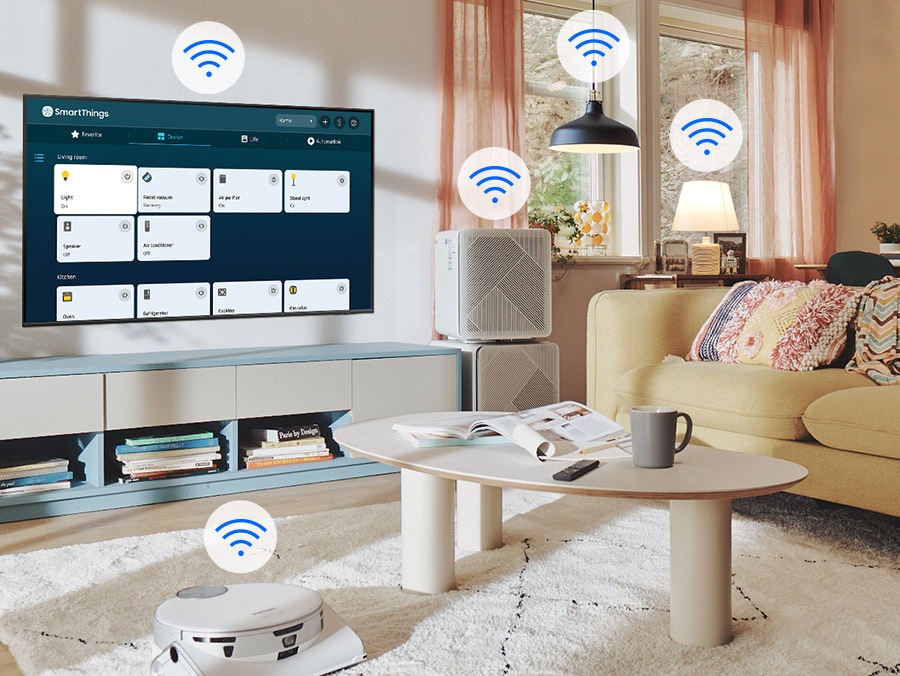 SmartThings
Your best home butler
Relax and let SmartThings seamlessly connect to, monitor and control all your smart devices to intuitively control your home via a built-in hub.
* Available technology, functions and features may vary by country, service provider, network environment or product, and are subject to change without notice. * Requires a Wi-Fi, Bluetooth or other wireless network connection and login to Samsung account. * Connected devices are sold separately.* Use of calm technology requires agreement from both SmartThings privacy notice and auto registered device.* UI is subject to change without prior notice.
Built IN DVBT and Pal Tuner. Excellent for use outside North America with Analog Pal RF signals and DVBT RF Signals. For use in North America to watch television a Cable, box or Satellite receiver from your cable company is necessary. Or if you will not subscribe to any paid cable a ATSC digital cable converter box can be used to tune TV channels when in North America. If using outside of North America in Africa, Asia, Europe, Middle East, Oceania, or other countries with Pal or DVBT tuning, this TV will work directly with RF Antenna signal. If You have any questions regarding this please call us. With the appropriate setup this TV can be used anywhere in the world.
USB stands for Universal Serial Bus. A USB port is a cable connection interface used on personal computers and consumer electronics. USB ports allow stand-alone electronic devices to be connected via cables to a computer or to each other.
WiFi built-in means that the hardware needed is already built into the device. WiFi Built-in tv's already have the WiFi card/adapter inside. It is ready to connect to Wi-Fi networks straight out of the box. If you have a WiFi network, just plug in the TV, set it up and you have internet access.
WiFi ready means that the device is able to use WiFi but requires an adapter. WiFi adapters are fairly inexpensive and usually plug into the USB port. WiFi Ready TV's will always have a standard LAN port to utilize internet features without using WiFi.
A smart TV, also known as a connected TV or hybrid TV, describes the combining of the Internet and Web 2.0 features into television sets, as well as the integration between computers and these television sets. These devices focus on online interactive media, Internet TV, over-the-top content, as well as on-demand streaming media, and less focus on traditional broadcast media than traditional television sets.

4K Ultra HD is the next generation in HDTV resolution. With 3840 x 2160 resolution, it features twice the pixels in width and height of 1080p HD, delivering clarity, depth and detail like no other.
Country Of Origin : India