Energy-efficient Cooling
Courtesy of its energy-efficient operations, the LG Direct Cool Single-door Refrigerator delivers optimum cooling without consuming too much power.
Inverter Compressor
Sporting a smart inverter compressor, this refrigerator produces less noise while providing long-lasting freshness.
Smart Connect
Featuring smart connect technology, this refrigerator can draw power from your home inverter in the case of power cuts, enabling you to store foods for extended sessions without the fear of spoilage.
Solar-powered Refrigerators
With the ability to run on solar energy, this is a solar smart refrigerator. However, the solar panels need to be purchased separately as they are not supplied with this kitchen appliance.
Retains Moisture
Owing to its Moist N Fresh lattice-patterned box cover, this refrigerator helps maintain optimal moisture levels of the stored fruits and vegetables, preventing them from becoming dehydrated.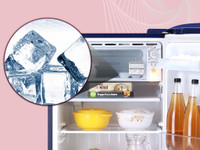 Rapid Ice-making
Boasting a powerful compressor, this refrigerator can provide you with ice within a short period.
Robust Glass Shelves
Equipped with toughened glass shelves, each shelf of this refrigerator is capable of holding a weight of up to 175 kg.
Easy-to-clean Gasket
Thanks to its easy-to-clean gasket, this refrigerator can provide you with healthy and hygienic food on a long-time basis.
Stabiliser-free Operation
Operating within a wide range of 90 V to 310 V, this refrigerator can function without a stabiliser, saving you from the trouble of purchasing one.
224 L : Good for couples and small families
Smart Inverter Compressor
4 Star : For Energy savings up to 45%
Direct Cool : Economical, consumes less electricity, requires manual defrosting
Country Of Origin : India