7-Segment Digital Display
The 7-Segment Digital Display shows critical indicators such as low voltage, high voltage, overload cut-off. You can use this to easily monitor the input and output voltages and safeguard devices and most importantly your peace of mind.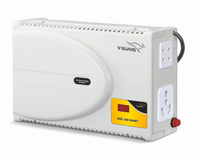 Cabinet with Wall Mount Facility
The V-Guard DIGI 200 SMART features a neat and sleek cabinet that offers a wall mounting option. Once installed the unit has a clean uncluttered look.

Built-in Thermal Overload Protection
Sometimes, your devices run the risk of burning out due to an overload of electrical current caused by some sort of damage to internal components. In such a scenario, the Thermal Sensor function of the V-Guard DIGI 200 SMART Voltage Stabilizer cuts off the power supply to protect your appliance or device.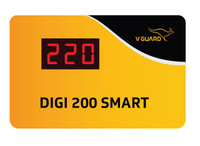 Wide Input Range (140-295V)
The DIGI 200 SMART is designed to keep your appliances and devices operational at voltage levels as low as 140 Volts. Enjoy uninterrupted usage of your appliances as the DIGI 200 SMART protects against high and low voltage cut-off, thermal overload, power surges and short circuits.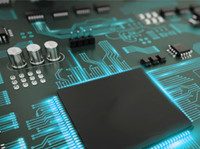 Effective IC Technology Design
Your expensive gadgets have sensitive components that can get damaged by even the slightest voltage fluctuation. The DIGI 200 SMART an IC circuitry that corrects the input voltage to provide a reliable voltage output.
Specification
General

Brand

V-Guard

Type

for 178 cm (70) TV + Set Topbox + Home Theatre (Working Range: 140-295V; 6 A) Voltage Stabilizer

Used For

Television

Compatible Devices

Television, DVD, DTH, Home Theater, Digital Music System / Electronic Weighing Machine, Photostat Machine, Computer,  Medical Equipment, Treadmill

Generator Compatibility

Yes

Color

White

Model ID

Digi 200 Smart

Body

Mount Type

Floor

Performance Features

Output Voltage Correction

Yes

Other Performance Features

Performance Features Output Voltage Correction Yes Other Performance Features Mains Turn - On Delay, Performs in Wide Input Range, >95% Efficiency

Safety Features

Under Volt Protection

Yes

Over Volt Protection

Yes

Overload Protection

Yes

Power Features

Minimum Input Power (V)

140 V

Maximum Input Power (V)

295 V

Minimum Output Power (V)

200 V

Maximum Output Power (V)

240 V

Accuracy (%)

2.5 %

Minimum Frequency (Hz)

50 Hz

Other Power Features

High Voltage Cut-off: 295 V Input (253 V Output), Capacity 6 Amps, 140 - 295 V Input Voltage Range

Additional Features

Other Features

Line Noise / Spike Protection, Generator Compatibility, High Voltage Cut Off, Performs in Wide Input Range, Primary Switching Technology, Overload Cut Off with Automatic Reset, Output Voltage Correction Withoutbreak, Mains Turn - On Delay

Dimensions

W x H x D

170 x 115 x 345 mm

Weight

8.31 kg



Country Of Origin : India