Convertible 5in1
Enjoy the ultimate in flexible storage with the Smart Conversion feature. Using Twin Cooling technology, you can switch between 5 modes. Simply convert your freezer into a fridge to store more fresh food. Switch the fridge or freezer off* to save energy. Or use the freezer as a small fridge.
Up to 10%" Energy Saving
SmartThings AI Energy Mode**
Monitor and proactively save energy. AI Energy Mode analyses your refrigerator usage patterns and estimates power consumption, based on AI technology. If the estimated electric bill exceeds your preset target, it recommends you to activate the saving mode to reduce energy use by up to 10%".
Moist freshness
Twin Cooling Plus™
Ensure food stays moister and fresher for longer***. Twin Cooling Plus™ optimizes the temperature and humidity in the fridge and freezer using independent cooling in each compartment. It preserves food in the optimal conditions and protects its natural flavor by preventing odors from mixing.
Manage, prepare and buy food more effectively. SmartThings Cooking* lets you create a list of the food in your refrigerator and manage expiry dates, so you can check what you have anytime, anywhere. It also recommends personalized recipes based on your preferences and existing ingredients.
SmartThings Energy
Efficient energy use, Smart savings
Manage your energy usage to reduce your carbon footprint and save money. SmartThings Energy* provides energy efficiency tips. It also monitors the energy consumption of appliances** in real-time and compares it to the previous month. And it alerts you if your monthly targets might be exceeded.
SmartThings Home Care
Smart maintenance, Easy upkeep
Take care of your refrigerator more easily. SmartThings Home Care* provides real-time monitoring and alerts. You can check on its status, including the condition of the water filter. It also automatically notifies you if parts need replacing or problems are detected, and suggests a solution.
Smart cooking, Tasty food
* Available on Android and iOS devices. A Wi-Fi connection and a Samsung account are required. **The screen is intended to help a customer understand and may be different from the actual screen.
Flexible wine storage
Rack & Shelf™
Make better use of your fridge space with a multi-functional Rack & Shelf™. Its wider design means it can store not only standard sized, but also thicker wine bottles, like champagne. A flatter shape also makes it much more versatile, as it can hold other food, such as pizzas and egg boxes.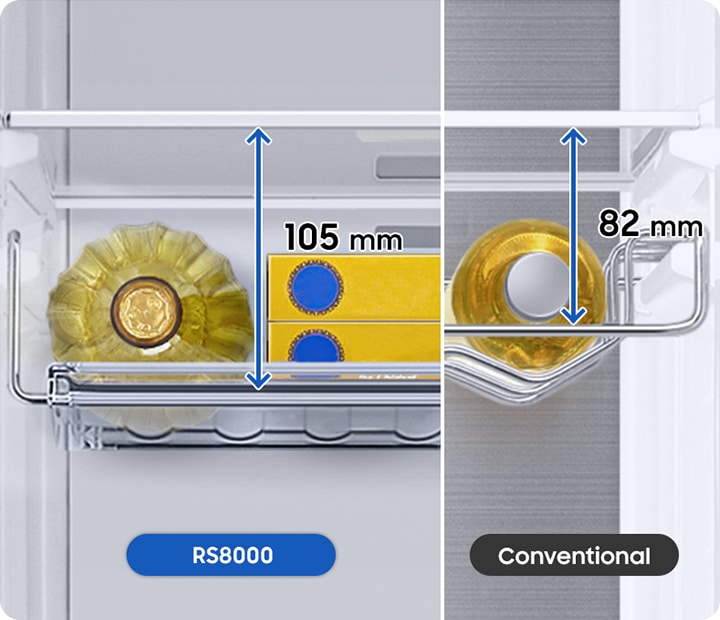 Precise Cooling
Preserve the freshness, flavor and texture of food for longer. Independent coolers in each compartment cool every corner evenly. Advanced insulation reduces any fluctuation, no matter how hot or cold it is outside. Digital Inverter Technology also senses and controls the temperature precisely.
Power Cool / Power Freeze
Enjoy a rapid cooling performance. At the touch of a button, Power Cool blows intensely cold air into the fridge to quickly cool your groceries or favorite drinks. Power Freeze delivers a fast blast of cold air into the freezer. It is great for freezing or firming up frozen food and making ice.
Built-in Look
Give your home a stylishly integrated and modern look. The Built-in Look fits perfectly with your appliances and cabinetry to create a seamless kitchen interior. Especially as its minimalist design has strikingly beautiful flat doors, recessed handles, a Hidden Display and a flat wine shelf.
Long-lasting and efficient compressor
Digital Inverter Compressor with 20 year warranty
Enjoy great energy efficiency, little noise and a long lasting performance. The Digital Inverter Compressor automatically adjusts its speed in response to cooling demand. So it is quiet, uses power efficiently and keeps working for long, backed-up by a 20 year warranty* on the compressor.
* 20 year warranty is limited to the compressor only.
Control anywhere
Wi-Fi Embedded
Monitor and control your refrigerator anytime, anywhere. With the embedded Wi-Fi, you can keep track of its status using the SmartThings App*. You can easily control its Rapid Cooling modes, check the temperature, and get alerts if the door is left open. It will also detect and diagnose issues.
* Available on Android and iOS devices. A Wi-Fi connection is required.
General Feature
Brand - Samsung
Model Name - RS76CG8113SLHL
Sku - RS76CG8113SLHL
Capacity (Litres) - 653 Litres
Type - Frost Free
No.Of Door - Side By Side
Color - EZ Clean Steel
Star Rating - 3 Star
Technology - Digital Inverter Technology
Cooling Type - Twin Cooling Plus
Compressor - Digital Inverter Compressor
Refrigerant - R-600a
Power Freeze Function - Yes
Convertbible - Convertible 5 in 1
Refrigerator Compartment
Number Of Shelf (Total) - 4 EA
Shelf Material - Tempered Glass
Number Of Vegetable&Fruit Drawer - 2 EA
Number Of Door Pocket - 5 EA
Wine Rack - Yes
Interior Led Light - Top LED
Freezer Compartment
Ice Maker - Manual Twist
Number Of Drawer - 2 EA
Number Of Shelf (Total) - 4 EA
Number Of Door Pocket - 5 EA
Interior Led Light - Top LED
Body Features
Display & Control (Fridge And Freezer) - Internal (Ice Blue)
Door Handle - Recess
Additional Features
Door Alarm - Yes
Noise Level - 37 dBA
Vacation Mode - Yes
Wi-Fi Embedded - Yes
Manufacturer Details
Generic Name - Refrigerators
Country Of Origin - South Korea
Country Of Manufacturer - India
Manufacturers Details - Samsung India Electronics Pvt. Ltd
Importer Detail - Samsung India Electronics Pvt. Ltd
Packers Details - Samsung India Electronics Pvt. Ltd
Item Available From Date - 44945
Dimension Weight Details
Product Dimensions(W X D X H) - 912 x 716 x 1780 mm
Product Weight - 100 Kg

Country Of Origin : India