Stay comfortably cool
WindFree™ Cooling
Stay comfortable cool with WindFree™ Cooling. It gently and quietly disperses air through 23,000 micro air holes, so there is no unpleasant feeling of cold wind on your skin. Its advanced airflow also cools a wider and larger area more evenly. And it uses 77% less energy than Fast Cooling***.
* ASHRAE (American Society of Heating, Refrigerating, and Air-Conditioning Engineers) defines "Still Air" as air currents at speeds below 0.15m/s that lack the presence of cold drafts.** Tested on the AR12TXCAAWKNEU model. WindFree™ mode generates only 23dB of noise, compared to 26dB with the Samsung conventional model.*** Tested on the AR07B9350MA3 model by Intertek, a leading Total Quality Assurance provider to industries worldwide, comparing the power consumption of Fast Cooling mode vs. WindFree™ Cooling mode. Results may vary depending on the actual usage conditions.
Enjoy a good night's sleep& save energy
WindFree™ Good Sleep
Get a really good night's sleep every night. The WindFree™ Good Sleep mode creates the ideal climate for sleeping – without an unpleasant cold air flow. Its temperature control with WindFree™ cooling helps you fall asleep fast, sleep deeply and comfortably and wake up feeling fully refreshed
Cools you faster
Fast Cooling
Cool rooms quickly from corner to corner, so feel comfortable wherever you are. Digital Inverter technology cools the air 43% faster*. Its advanced design also has a 15% larger fan, 18% wider inlet and a 31% wider blade. So cool air is dispersed farther and wider**, reaching up to 15 meters.
* Tested on the AR12TXCAAWKEU model compared with the Samsung conventional AQ12EASER model, measuring the time taken to reduce the room temperature from 33°C to 25°C.** Tested on the AR24TXFCAWKNEU model.
Easy to clean, removes airborne bacteria
Copper Anti-bacterial Filter
Keep the air conditioner working efficiently with less effort. The Copper Anti-bacterial Filter is located outside, on the top, so it can easily be removed and cleaned. Its dense mesh keeps the Heat Exchanger clean and The copper material contained in the yarn helps reduceup to 99% harmful bacteria
* Tested by Intertek. Data has been measured under specific testing conditions and may vary depending on environmental factors and individual use.
Automatically stays fresh and hygienic
3-step Auto Clean
Keep the inside of the air conditioner hygienic by doing nothing! After it's been working, the Auto Clean function automatically dries the Heat Exchanger using a 3-step process. It removes moisture by blowing air for between 10 to 30 minutes***. So it prevents the buildup of bacteria and odors.
* Models without WindFree™ mode will operate with the blade open, if additional cleaning is required. ** Only available in WindFree™ models that have a humidity sensor.*** The Auto Clean time will vary depending on the condition of the air conditioner.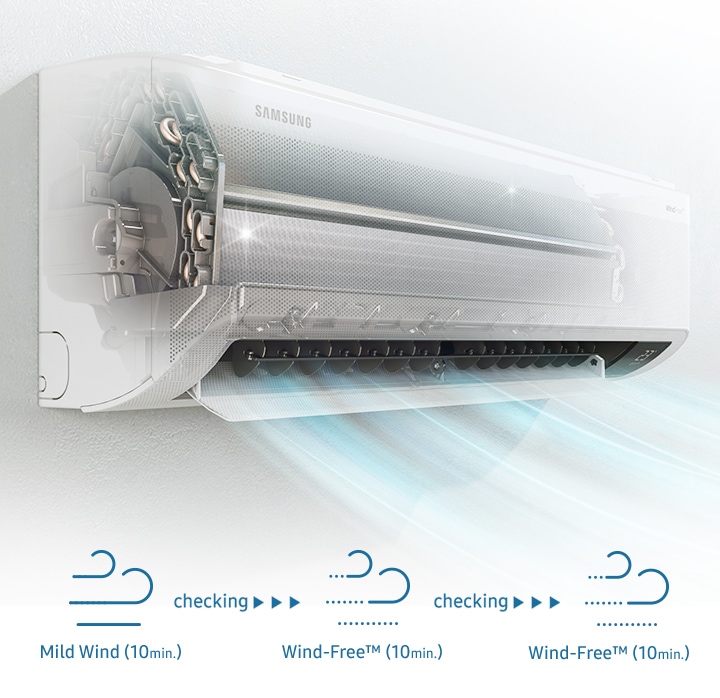 Effortlessly optimize energy efficiency
5-step Convertible Cooling
Save energy, but still stay cool. The 5-step Convertible Cooling* lets you adjust the compressor operation in 5 steps, from 40% to 120%, to suit your changing cooling needs, using the minimal amount of energy**. You can also use it to reduce your daily energy consumption whenever you want.
* Only available when the air conditioner is in Cooling mode, but not in WindFree™ mode.** Based on internal testing on the AR24AY4YATAN compared with Samsung conventional models, measuring the power consumption of the Normal mode vs. 5-step mode. Tested based on the Cooling Standard (Out 35℃ DB / 24℃ WB, In 27℃ DB / 19℃ WB). The results may vary depending on the model, environmental factors and individual use.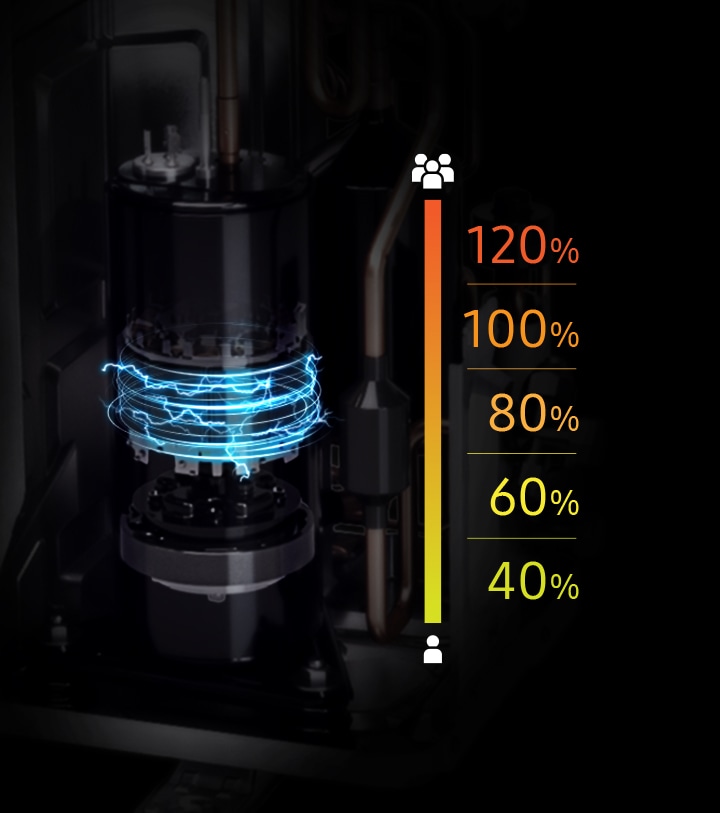 Prevents corrosion, optimizes performance
Durafin™ Ultra
Safeguard the Heat Exchanger from damaging corrosion. The Durafin™ Ultra has an anti-corrosive layer and a hydrophilic layer that protect the Heat Exchanger from rust. Its superb corrosion-resistance was proven in a Salt Spray Test (SST)*.
* Based on testing by a third party lab in accordance with ASTM B117, an official test method. For more details, please contact Samsung's technical professionals.** Based on testing by a third party lab, applying the actual pressure of refrigerant for 1 minute, after a Salt Spray Test (SST) of over 3,000 hours.
Corrosion-resistant for added durability
Coated Copper Tube
Enjoy a longer-lasting performance and save money. The Heat Exchanger's coated copper tubes have 7.5x better corrosion resistance*, protecting it against harmful environmental conditions, like dust and pollutants. It extends the lifespan, improves reliability and reduces maintenance costs.
* Based on testing by TUV Rheinland in accordance with the ASTM G85 Annex A3 modified-SWAAT test, compared to the non-coated copper tube. The level of corrosion resistance is based on the reduction rate of the copper tube's thickness. The original thickness of each copper tube was 206㎛. After 40 days, the coated copper tube was 186㎛ thick and the non-coated copper tube was 52㎛ thick.
Long-lasting protection, optimal cooling
Triple Protector Plus
Enjoy a long-lasting performance in challenging environments. Triple Protector Plus technology prevents damage from power surges and fluctuating electrical currents, without a separate voltage stabilizer*. Its anti-corrosion coating also protects the condenser and cabinet in harsh conditions.
* Tested on the AR12TXEAAWKNEU model compared with the Samsung conventional model AS18FCMID.
Eco-friendly cooling – zero ozone impact
R32 Refrigerant
Protect the planet by reducing the impact of climate change. The air conditioner uses the next generation R32 refrigerant, which helps conserve the ozone layer and has a low impact on global warming compared to conventional R22 or R410A refrigerants. So it's much more environmentally friendly*.
* Tested on R32 refrigerant compared with Samsung conventional refrigerants R410A and R22.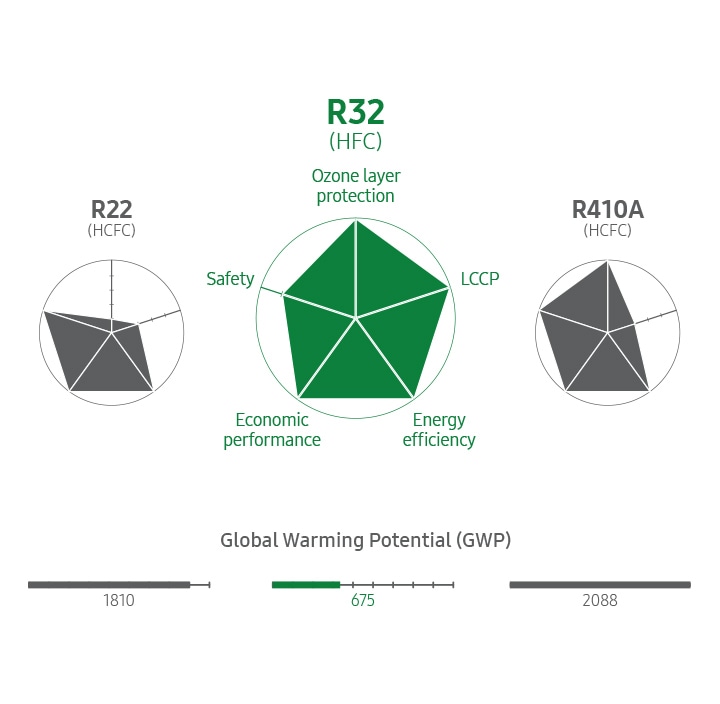 Enjoy an even temperature across a room
4-way Swing
Create a comfortable environment with an even temperature in every corner of a room. The 4-way Swing function lets you remotely control the air direction or automatically expels air in every direction. As well as the auto up-down swing function it also has an auto left-right swing function.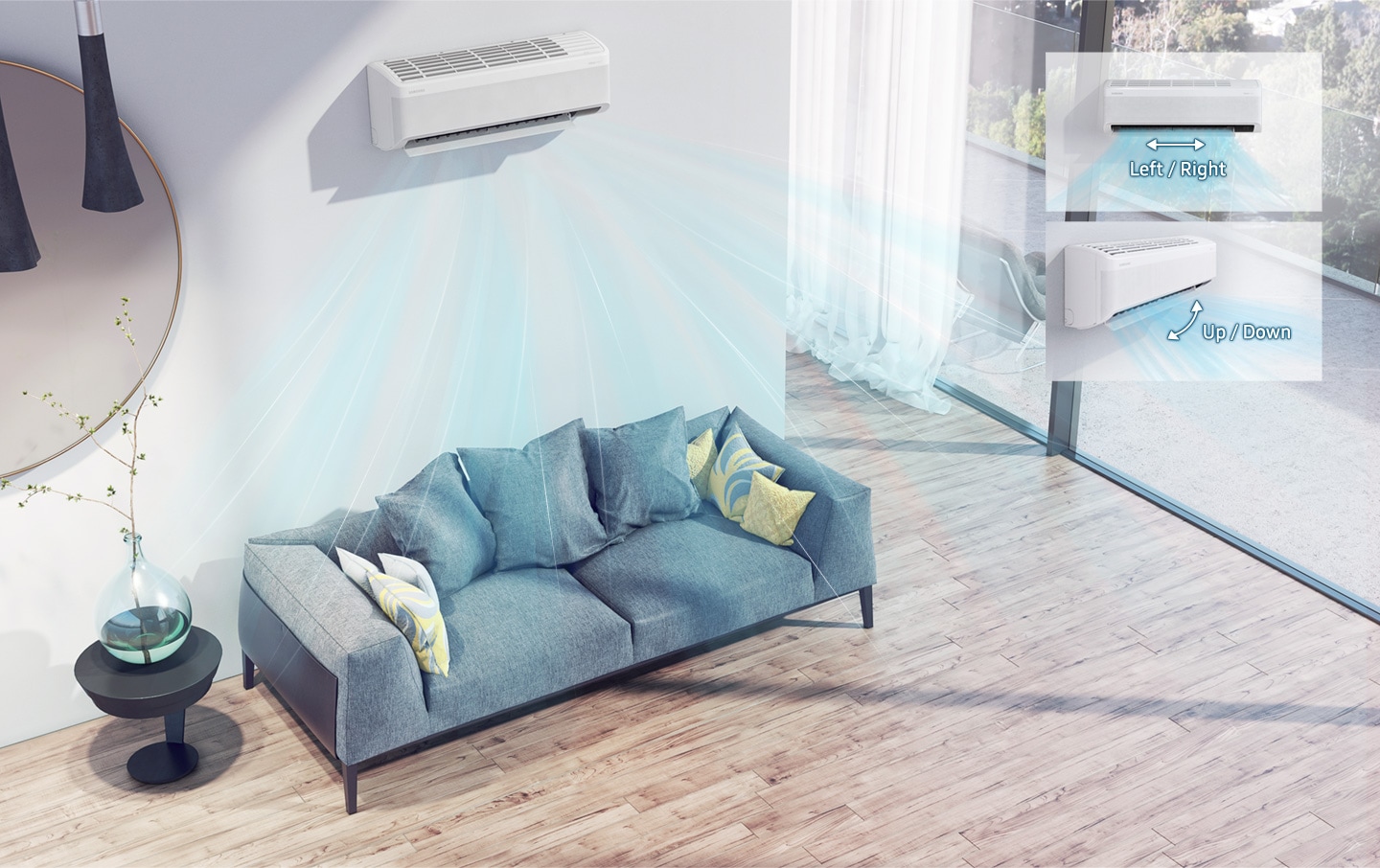 In-box items
Indoor Unit - 1 unit
Outdoor Unit - 1 Unit
AAA battery - 2 Unit
Remote Control - 1 Unit
User Manual - 1 Unit
Copper Piping (3 meter standard) - 1 Unit
General
Brand - Samsung
Model - AR18CY3AQWK
Type - Split
Panel Display - LED
Design
Dimensions - 88.9 (W) x 29.9 (H) x 21.5 (D) cm
Outdoor Dimensions - 72 (W) x 54.8 (H) x 26.5 (D) cm
Weight - 10.1 kg
Condensor Coil - Copper Condenser Coil
Modes
Sleep Mode - Yes
Cool Mode - Yes
Dehumidification - Yes
Other Modes - Auto Mode, Fan Mode, Fast Cool, Quiet Mode, 5 Step Mode
Air And Filters
Dust Filter - Yes
Anti Bacteria Features - Yes
Auto Air Swing - Yes
Air Circulation - 4-way Swing
Speed Setting - Yes
Technical
Capacity - 1.5 ton
Cooling Capacity - 5 kw
Refrigerant - Eco-Friendly Refrigerant-R32
Operating Current - 6.8 amp
Compressor - Inverter Compressor
Power Features
Star Rating - 3
Voltage Required - 230V, 50Hz
Power Consumption - 1560 w
Extra
Remote Control - Yes
Auto Restart - Yes
Night Glow Buttons - Yes
Self Diagnosis - Yes
Auto Clean - Yes
Convenience Features - Convertible 5 in 1 Modes, WindFree Cooling with 23000 microholes, Indoor Temp. Display, Filter Cleaning Indicator
Timer - Yes
Inverter Technology - Yes

Country Of Origin : India