Product description
Preethi Induction Cooktop's stunning contemporary design and user friendly features is the outcome of diligent research and extensive consumer feedback. The result is a product that makes your everyday cooking fast and flexible. An Induction Coil beneath the Ceramic Plate produces a magnetic field that causes the electrons in the Vessel to vibrate and produce heat. The Vessel heats up the contents in it, while the cooking surface itself does not heat up.
---
From the manufacturer
Preethi Trendy Plus Induction Cooktop
One Touch Menu:

 

Induction Cook tops with Pre-programmed Indian Menu's Available with 6 Preset options like Gravy, Roti/Dosa, Fry, Idli and Milk/Tea
Highly Efficient:

 

4 Times more savings compared to traditional cooking. The Pre-programmed "Indian Menu" setting is controlled by IGBT which enables automatic switching (on/off) of power supply resulting in less power consumption
Safety:

 

Programmed timer control will switch of induction cooker automatically when unattended PVC insulated 2 Core 1 sq.mm Flexi cord with 10 Amps 3 Pin plug top for protection against short circuit
Convenience:

 

Large heating base to accommodate vessels with larger base Longer Wire cord length for convenience
Durability:

 

The high quality ceramic plate can withstand very high temperature hence our ICT's are highly durable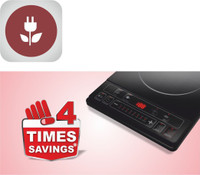 Power Efficiency
With this Preethi Induction Cooktop, you can save up to 4 times more energy when compared to other cooktops. The pre-programmed settings, with automatic shut-off feature, help reduce the consumption of power to a large extent.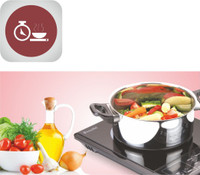 Faster Cooking
Unlike gas stoves which will take a lot of time to heat up the utensil, this induction cooktop transfers 84% of heat to the cooking vessel. This helps minimize heat loss and reduces cooking time.
One Touch Menu
This induction cooktop offers six pre-programmed Indian menus - gravy, roti/dosa, fry, idli, and milk/tea - which make cooking easy and efficient.
Durable
This cooktop uses high-grade electricals which protect the appliance from short circuits. The cooktop has a superior ceramic plate which can easily withstand high temperatures.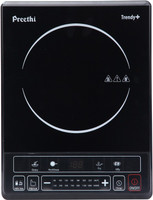 Power
This appliance consumes 1600 Watts of power. It has a 1.28-meter cord so you can place this cooktop at a convenient distance from the power socket while cooking.
Specification
| | |
| --- | --- |
| Brand | |
| model_name | |
| Model | |
| Type | |
| Color | |
Power Features
| | |
| --- | --- |
| Frequency | |
| Power Consumption | |
| Power Input | |
Dimensions
| | |
| --- | --- |
| Length | |
| Height | |
| Width | |
| Depth | |
Warranty
| | |
| --- | --- |
| Warranty Summary | |
Country Of Origin : India