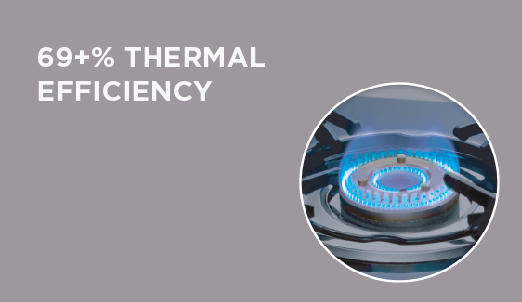 69+ Thermal efficiency %
The appropriate alignment of tri pad mixing chamber and ant guard jet brings gas from valve directly to burner providing 60:40 Air- LPG ratio. This coupled with heavy-duty brass burners produce blue flame with improved flame height for better thermal efficiency enabling you to cook faster and save gas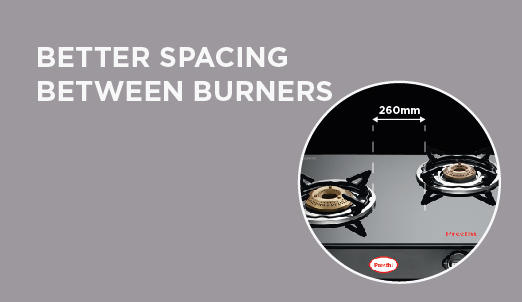 Better Spacing Between Burners
Ensure that your two burner gas stove is actually a two burner gas stove! Sufficient space, 260mm gap between the burners allows you to use 2 large vessels simultaneously.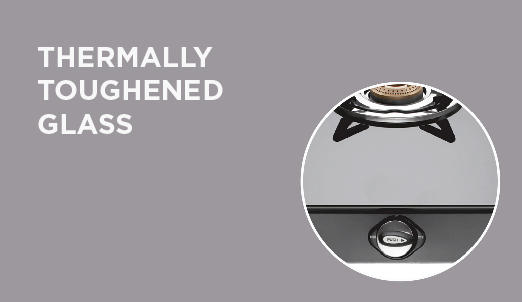 Thermally Toughened Glass
6 mm thick thermally toughened glass top makes it highly durable, long lasting and heat resistant.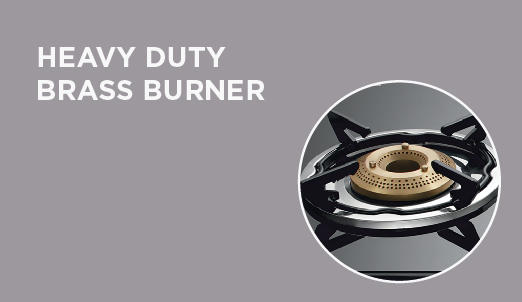 Heavy Duty Brass Burner
Heaviest brass burners that are heavier than the competitors for improved durability, faster cooking and consistent efficiency for years.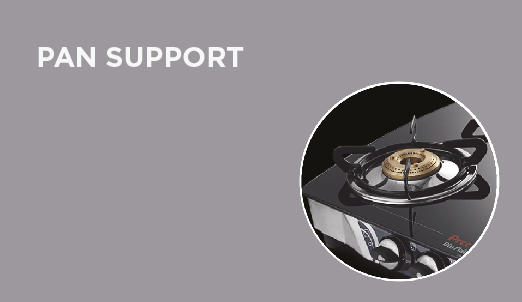 Pan Support
High quality powder coating on pan support prevents corrosion and improves durability. Heavier pan support makes it sturdier to improve the ease of cooking.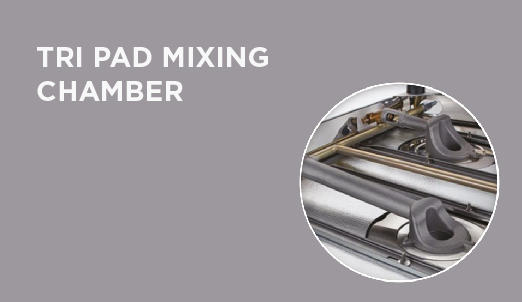 Tri Pad Mixing Chamber
Featuring for the first time, a mixing tube made of high grade aluminium material fixed firmly to the gas stove. This feature supports the right mixture of air & gas ratio for increased efficiency and perfect flame.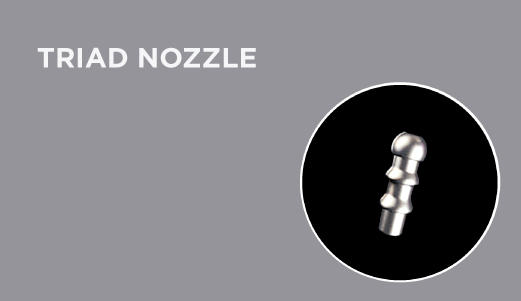 Triad Nozzle
The first of its kind in the industry with a unique provision for connecting gas tube from all 3 sides of your gas stove. An add-on feature that can be availed with additional charges.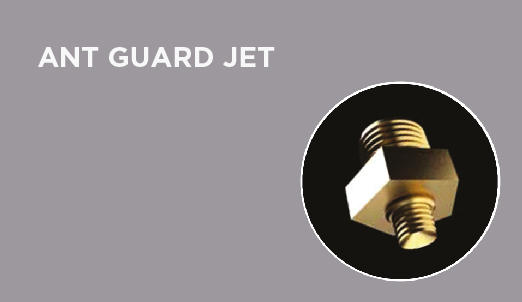 ANT Guard Jet
The ant guard jet aligns with the tri-pad mixing chamber to bring pressurized gas directly to the burner. It is uniquely designed* (patent pending) to prevent entry of ants to ensure smooth functioning for years and minimise low flame issues.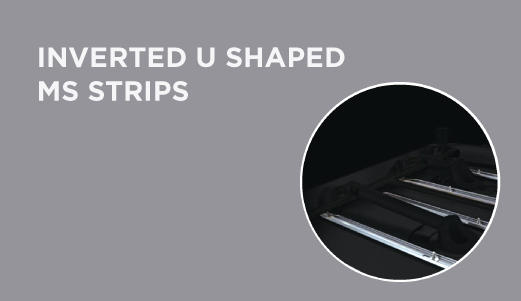 Inverted U-Shaped MS Strips
A one of a kind feature found in Preethi's range of gas stoves is the inverted U-Shaped strips designed to provide more strength and durability.
Glass top with smart burner distance. Faster cooking, 69% thermal efficiency saves gas.
Country Of Origin : India