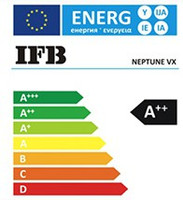 Super-efficient in Saving Energy
Dishwashers generally consume a lot of water and electricity. Well, this one from IFB proves that notion wrong on both counts. Say hello to Neptune VX's A++ energy efficiency. On an average, it uses only 9 liters of water a day, not affecting your water bill much.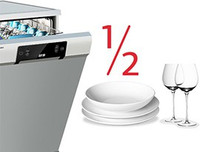 Flexible Half-load Option
Who said that using a dishwasher is sensible only if you have a heavy load of utensils? Certainly not us. With its half-load mode option, you can choose whether to load just the upper rack or the lower rack. It doesn't matter whether it's a heavy or a light load - wash away.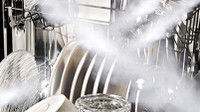 Bye-bye Moisture
When we need to use a freshly washed utensil, we have to first wipe it clean with a cloth or napkin. Well, no more of that. This product not only washes your utensils, but steam dries them as well. Steam drying ensures that all your utensils are completely free of almost any kind of moisture droplets, streaks or marks.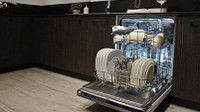 Adjustable Racks Provide Flexibility
Another addition in the flexibility department is the adjustable racks. This dishwasher comes with height-adjustable notches which help you move the racks and shelves, depending on the height of the utensils you need to wash. Convenient, isn't it?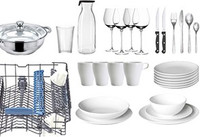 An Appealing Smart Design
A dishwasher just washes your utensils. So, you must probably think that looks really don't matter, right? Well, this IFB dishwasher is sure to change your mind. It has a stunning silver finish and is decked up with a high tech control panel and it will certainly enhance the appeal of your kitchen. A perfect marriage of form and function.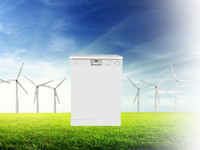 Eco Wash
Wash loads of dirty dishes without wasting water, detergent, or electricity.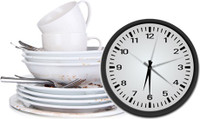 Quick Wash
This wash program washes lightly soiled plates and bowls in just 40 minutes.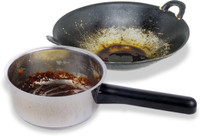 Auto-intensive 60-70
Its pre-wash temperature of 60 degrees and its thorough-wash 70-degree temperature remove stubborn stains from dishes. The three-stage rinsing process ensures a thorough cleaning.
Specification
General
| | |
| --- | --- |
| Brand | |
| Model Number | |
| Type | |
| Capacity | |
| Water Consumption | |
| Noise Level | |
| Control Type | |
| Number of Wash Programs | |
| Wash Program Type | Economic, Hygiene, Normal, Prewash, Quick, Super 55-minute 60°C, Auto Delicate 30 - 50, Auto Normal 50 - 60, Auto Intensive 60 - 70 |
| Filter System | |
| Indicators Present | LED Indicator for Program Status, LED Indicator for Rinse Aid, LED Indicator for Salt Refill |
| Color | |
| Energy Rating | |
Rack Features
| | |
| --- | --- |
| number_of_racks | |
| Removable Rack | |
| Height Adjustable Rack | |
| Other Rack Features | Mug Shelf in Upper Rack: Adjustable, Foldable Wires in Lower Rack, Shelves in Upper Rack: 4, Removable Rack: Bottle Holder and Cutlery Basket, Spoon Rack |
Convenience Features
| | |
| --- | --- |
| Display Type | |
| Display Features | LED Display on Control Panel for Error Detection |
| Child Lock | |
| Interior Light Present | |
| Other Convenience Features | Modular Lower Cutlery Basket, Flexible Half Load, Steam Drying, Water Spray Shower, Water Spray Arms: 2 |
Body Features
| | |
| --- | --- |
| Basket Material | Vinyl Coated Galvanised Iron |
Power Features
| | |
| --- | --- |
| Power Consumption | |
| Power Requirement | |
| Heater Element Rating | |
| Other Power Features | Maximum Power: 2200 W, Electric Supply : Single Phase 15 A |
Additional Features
| | |
| --- | --- |
| Delay Start | |
| Other Features | Water Supply Hose: 3 / 4 BSP Internal Connector, Water Pressure Range: 0.3 to 10 bar, Adjustable Feet, Water Softening Device (Upto 60 dH), Smart Design, Jet Wash, Super Energy Efficiency |
Dimensions
| | |
| --- | --- |
| Width | |
| Height | |
| Depth | |
| Weight | |
| Other Dimensions | |
Country Of Origin : India