No more fretting over India-specific stains such as Mud, Oil, Sweat or Tea. Bosch's AntiStain Program handles them all effortlessly – no pre-treatment or chemicals required.
Anti Vibration Side Panels
Anti Vibration design reduces vibration & noise level even at higher RPM so that the Machine remains super silent
AntiWrinkle
Bosch's latest innovation cuts wrinkles by up to 50%*, giving you a perfect wash without harming fabrics. It's TUV tested and certified too!
SpeedPerfect™.
The SpeedPerfect™ option washes in a shorter time with the cleaning results of the standard program.
AutoStain Removal
Adjust the water temperature, speed and washing rhythm, with the laundry detergent, for better collapse of special stains
EcoSilenceDrive: powerful, durable, quiet and efficient.
It is quiet, powerful and durable. It ensures low power consumption and high cleaning efficiency. It works without brushes and ensures top results. Not just that, its innovative technology works without friction for virtually wear-free operation.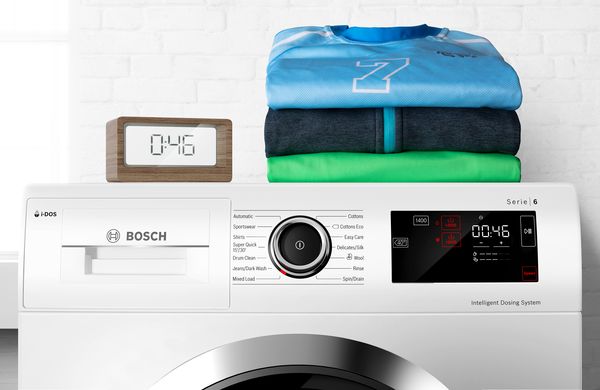 Perfect results, in less than half the time.
When time matters, washing machines with SpeedPerfect cut the washing time by up to 65%* without compromising results. SpeedPerfect can be used in combination with most programmes, and with all load sizes and fabric types. For example, select the Mix Programme along with SpeedPerfect, and you can thoroughly wash up to 4 kilograms of mixed laundry in just 46 minutes. *Difference between the duration of Easy Care Programme 40°C and the duration of Easy Care Programme 40°C in combination with SpeedPerfect option.
Powerful but gentle wash.
Your favorite or delicate clothes can end up ruined wash after wash. The unique, patented Vario Drum system structure gently and efficiently wash all types of clothing by evenly water distribution and without stretching, creasing or damaging your most beloved items. Depending on the selected programme, the droplet-shaped design and the asymmetrical paddles gently rotate your laundry to the centre, regardless of the rotation direction. This not only ensures an intensive clean for more heavily soiled garments, but a quicker, more thorough clean for the entire load.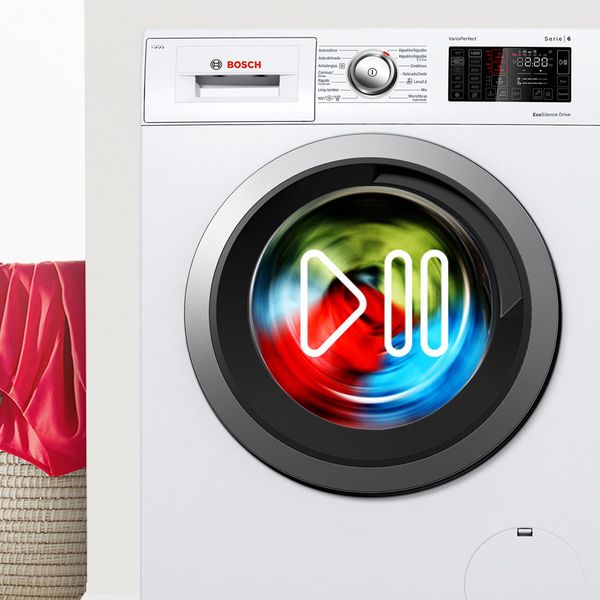 Never miss an item again, with Reload.
Forgot to add a kid's sock, or a stray t-shirt? No problem! The Reload function lets you easily add or remove clothes during wash cycles*. Just press the Reload button and open the door, then add your forgotten items and continue the wash.
The whisper quiet washing machine.
The innovative Anti Vibration design of the side walls is not only eye catching: the system also provides more stability and reduces vibration. The enhanced insulation also regulates noise levels, making Bosch washing machines very quiet, even during the spin cycle.
General
Dimensions of the product     848 x 598 x 590 mm
Installation typology     Freestanding
Loading capacity     8.0 kg
Max. spin speed     1,200 rpm
Wash optimization: Easy iron, extra Rinse, SpeedPerfect, Spin speed reduction, stain selection, Start/Reload, Temperature selection
Digital countdown indicator     Yes
Start delay options     continous
Noise level washing     53 dB(A) re 1 pW
Noise level spinning     73 dB(A) re 1 pW
Water protection system     Multiple water protection
Hot & cold water intake     No
Length electrical supply cord     160.0 cm
Available languages display     Symbols
Drum material     Stainless steel